All Things Dexter…16 Months
Posted on

Ali J.

on

August 11, 2014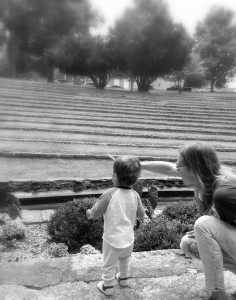 A few of my favorite things about the boy this month…..

-He says TA-DA backwards "daaaaaa…TA!!!!"
-After Daddy and I give him morning kisses he pushes our faces together and makes us kiss each other.
-The way he dances, both arms up and stomping one foot (wonder where he gets that from?)
-How he runs over to the kitchen window every morning to see what his shadow is up to that day.
-Smelling the illustrated trees when we read "Go Dog. GO!"
-Making motor sounds whenever he sees a truck, car , lawnmower or power tools
-Helping Mama unload the dishwasher and after putting away each individual piece of silverware he says "tanks!"
-While I'm getting dressed he runs to my closet and pulls out a (or five) pair of heels and brings them to me, and I must say, this boy, he makes some very bold fashion choices.
– How he surprised me yesterday with a big open-armed run and gave me the biggest, tightest, and most incredibly sweet hug I've ever received to date.
-How he tilts his little chin up as high as he possibly can whenever you point to something and start describing it to him.

Also have to share the cutest little interaction I was privileged to witness yesterday. Our little friend Marley who is just a bit older than Dex gave him a huge hug and big kiss right on the mouth, looked into his eyes and said, "I love you, Dexter" As if that wasn't adorable enough, Dex furrowed his brows as he often does and after thinking for a sec replied with an emphatic "YUCK!" These kids man!